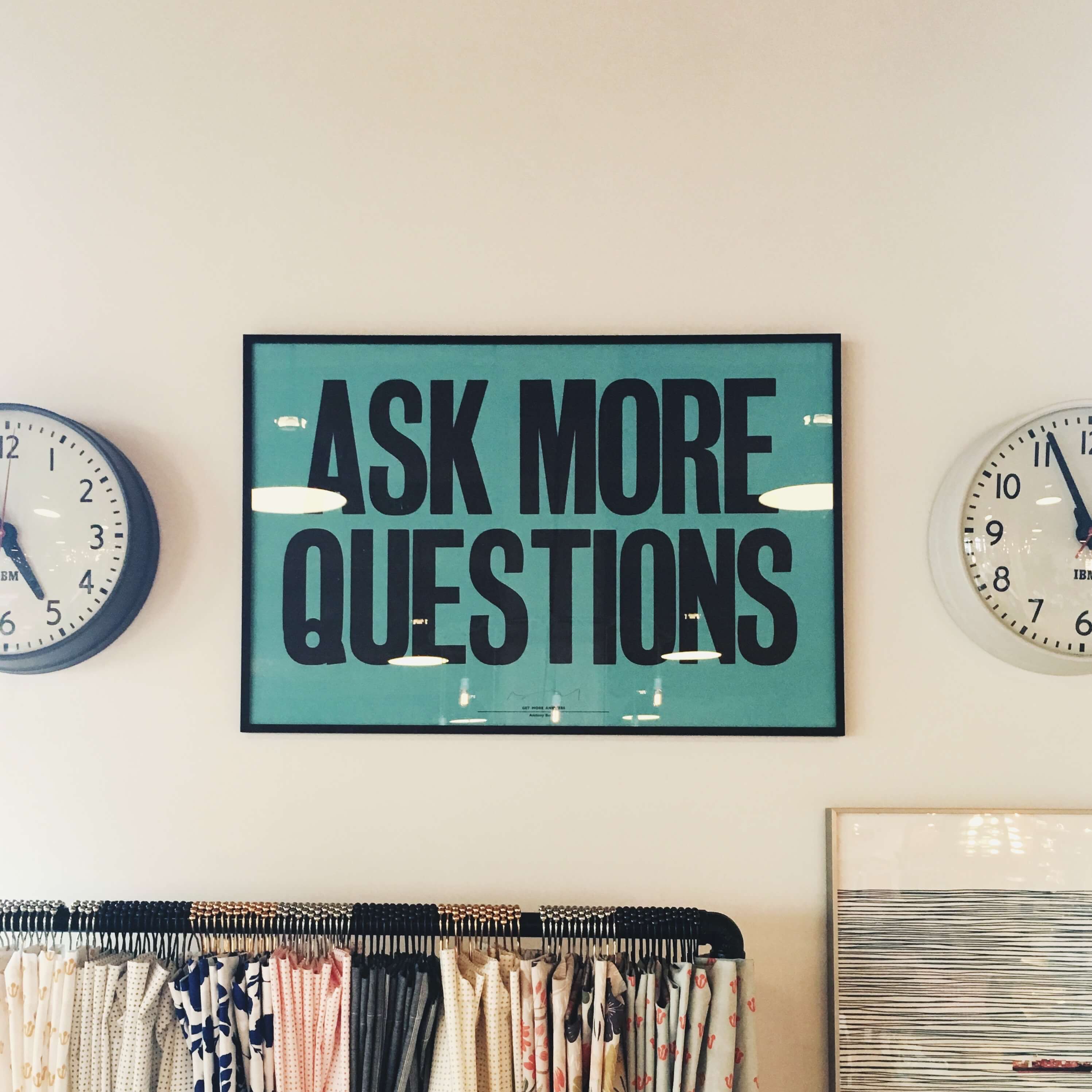 The other day, I woke up covered in sweat from the worst nightmare I've had in a long time. 
What if people don't get it?
I think most entrepreneurs who start out with the desire to do things differently can relate to this one. You become so caught up in your own idea that it seems obvious. No further explanation needed. And I was so wrong. 
In our eager to break away from traditional agency categories – graphic design, concept development, e-mail marketing (you fill in the rest) – we completely forgot to consider the implications of moving away from what people know. What people are used to. 
It wasn't until one of our advisors looked through the business plan and said: Seriously, what is it that you do? Back to the drawing board… 
Of course a lot has happened since then and I think we've managed to break down each of our four services and built them back up with every building block available in our knowledge box. Translated into non-metaphorish – what is it that we actually sell and how can we create value for your business. Take a look under value creation and check if we are making sense to you. If not, please fill out with the contact form with the words: Seriously, what is it that you do? Thanks. 
No seriously, what is it that you do? 
To get rid of my nighttime jitters, I've decided to create five blogposts elaborating on why we've tried to create our own services, what they contain and how they can match your business needs. This one is the first giving you a collective overview of how we approach a task and what it is that you as a client will get for your money. The next four posts will go more into depth with each service and the synergies between them. 
To begin with, we try to seperate each project or collaboration into three levels where our services is the first that guides the second and third – let me elaborate. 
Whatever your needs, there is always an inherent position you wish to claim. Many agencies today begin with the campaign. They may try to link the creative concept to overall business goals and values, but it often remains a one-off and the value dies together with the hype and the empty ad account. Our services is a framework designed to take you on a tailored journey towards the brand position you wish to claim. Sustainable value made possible for you to maintain even after we end our collaboration.
Okay, I see it's getting a bit intricate already.. Forget level 2 and 3, I'll try with a model instead (the italics represent a thought example).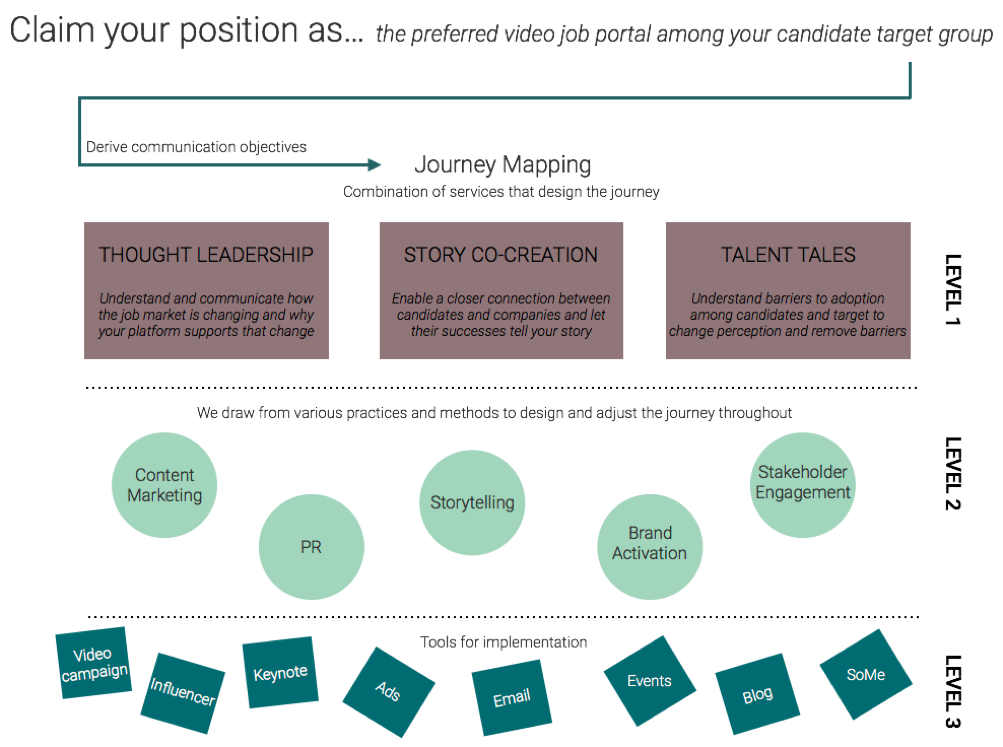 So, how are am I doing? Am I making sense? 
The main point I'm trying to get across is that we never start with level 2 or 3. Neither do we determine upfront what level 2 and 3 should contain.
For your journey to be succesful, for sustainable value to be created, we believe you must strategize, create and implement activities on a continuous basis, resulting in a stable brand growth being responsive to dynamic market changes and trend fluctuations.   
What our approach demands from us 
So do they walk the talk or are they just throwing a lot of pretty words out to fit the profile of a fancy consultant? We believe we are (everything less would be idiotic) for several reasons. First, we apply a set of tailored methods that force us to consider long-term impact and plan a stream of activities that all steam from the same ambitious objectives. With a constant focus on the position you wish to claim, we can use it as a filter mechanism to determine if an idea is something that can bring us closer to the destination or not. If so, next step is to figure out where it fits in the journey. By having a long-term mindset and the methods to support it, we avoid having to turn down brand building activities because the timing is wrong. We can simply move them ahead in the journey and adjust through the results of previous steps.   
Second, we are very much aware that we can't do everything. In order to adjust the journey on the way and respond quickly to changes and new opportunities, we need to be able to draw from a wide range of tools (level 3). That is where our creative heroes come into the picture. 
We work with an established team of partners who specialize in one or more of the different practices you find within the broad communication mix. By committing to the journey, we have the opportunity to co-create with our partners to ensure maximum quality for you. No matter what brand activity we choose to focus our energy on.  
Third, we don't believe that we can come as outsiders and know everything about your brand and where you need to go. We think your ideas and input is not only important during the initial stages of the journey, but throughout our collaboration. We try to stay as open and transparent as possible and invite you to take as much ownership of the project as you feel necessary. We see every project as a learning process and an opportunity to transfer and share knowledge. It all comes down to how much energy you feel like putting in.         
And what it demands from you
Yes, I said it. We have demands for our clients. We need to for our approach to work. We can not reach an ambitious and powerfull position over night and neither can we do it with a short-term project. We have respect for budgets, but we also think that paying +100.000 DKK for one fancy campaign is not what creates sustainable value. To be successful, we need you to have faith in- and commit to the journey. We always suggest a collaboration between minimum 3-6-12 months with close contact throughout and a stable flow of activities ranging from research to analysis, strategy, tactics, implementation and evaluation. 
What you get in return is everything but an agency that signs the contract, walk of for a few months and return with something pretty. We see you as our partner in crime. If crime could ever do good. Not only do we keep you in the loop at all times, but we make sure to pass on the methods, tools and models we use to the extend you wish to receive it. Equipping you with more knowledge than before and enabling you to sustain our efforts when (if) our collaboration (must) ends.
Have I lost you? 
Hopefully not, because now the fun stuff begins. Cause what is sustainable value within communication? What are brand building activities? And why are PR and strategic storytelling so good together? Stay tuned for the next episode (read: next blog post for less dramatic effect)…..